Do your eyes roll when you hear the phrase "free credit report?' Yeah, me too. There are a lot of scams out there when it comes to free credit scores. How do you know which ones to trust? Read my Quizzle review below to see if they make good on their claim.
Free Credit Report without Credit Card?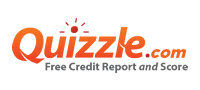 I'll cut to the chase. Yes, you get a free credit report from Quizzle.
Even better, you get it free without having to use
a credit card. Nothing is more annoying than signing up for something "free," only to have to fork over your credit card at the end.
Suggestion to companies that do this: Stop!
Fortunately, Quizzle doesn't do this. Free means free for your credit report. Score one big point on that end.
The free Quizzle credit report comes from Equifax, which is one of the three main reporting companies. They also present it in an easy to read format.
Free Credit Score without Credit Card?
In my previous post about getting all three of your credit reports directly from the credit bureaus, I warned that your credit score is not free. When you go to get your free credit report required by law, the credit reporting companies will offer to give you your score, but it won't be free. Usually they bundle it with a monthly monitoring service or a one time charge.


So is there a catch with Quizzle's free credit score offer? Surprisingly, no. Unlike the big three credit reporting companies, you do not have to pay a monthly or one time fee to see your credit report.
Another bonus: You can also get your free credit score without a credit card.
Score another point.
This is a link to Quizzle if you want to check it out: Quizzle No Credit Card
Quizzle Pro: Paid Credit Monitoring and Identity Theft Protection
Even though the credit report and the credit score are free, that doesn't mean Quizzle won't try to pitch you on a paid subscription. Quizzle Pro and Pro Plus are the two levels of monthly credit monitoring and identity theft protection. Pro costs $8.00 per month, while Pro Plus is $15.00 per month.
The paid plans allow you to check your credit report and your credit score once every month. Plus you get some tools to help analyze your credit trends. The 24/7 credit monitoring service alerts you of new accounts and past due payments. Check out this screenshot with the full list of Pro and Pro Plus features:
As you can see in the Pro Plus plan, there are plenty of features that go beyond credit monitoring.
Quizzle will also pitch you different credit related services with your free plan. There are pop-ups for credit card suggestion tools and mortgage suggestions. For the most part, they are pretty easy to ignore and click around. If you are in the market for a new card or a mortgage, they can even be useful.
Quizzle Review: Easy to Use
Once you decide you want to give Quizzle a try, it's easy to sign up and start using. Once you click in, you will see a sign-up screen that looks like this:
You enter your basic information and answer a few questions. Quizzle uses these questions to tailor some of their offers and information to you.
Quizzle uses an easy to read Dashboard that shows you most of your vital information up front. You can see your credit score and then drill down for details. It also allows you to check your credit report.
One thing that Quizzle does very well is that they make your report easy to understand. They break it into categories and use an attractive layout to make easily digestible.
Along the side, there are links to different tools that can help you understand your credit better. Of course, the most important part is your actual credit report. But if this is your first time viewing your credit report, it is helpful to have it explained.
The best way to get familiar with your report and some of the concepts behind it is to explore some of the links in Quizzle. It's great at gathering information in one place.
You can't dispute inaccurate information from withing Quizzle, but you should still use this opportunity to check for errors. Read my earlier post on checking for credit report errors.
Is the Quizzle Credit Score Accurate?
The credit score you get will be a VantageScore 3.0 from VantageScore Solutions. The scale of the VantageScore is from 300 to 850.
This score will be calculated based on the information in your Equifax credit report. If there are inaccuracies in your credit report, then there is an opportunity to improve your credit score.
The VantageScore looks at six different categories and assigns different weight to the data from those areas. The categories are:
payment history
age and type of credit
percentage of credit limit used
total balances/debt
recent credit behavior
available credit.
The VantageScore is different from a FICO score. Different lenders use different tools, but the VantageScore is used by thousands of lenders and some of the nation's leading banks. Regardless, the score should be accurate to give you a solid understanding of where you are with your credit.
Remember, your credit score is only as accurate as the information in your credit report. Be vigilant about finding errors!
It's a Soft Credit Check
Getting your credit score through Quizzle will not hurt your credit as a hard inquiry. The score you get is the result of a soft credit check. Soft inquiries do not show up negatively on your credit. Hard inquiries do.
A hard inquiry remains on your credit report for two years and is a sign that you are actively seeking new credit. Anytime you apply for a credit card, a mortgage or most other major credit lines, it will show up as a hard inquiry on your credit.
Soft credit checks are seen only by you on your credit report. They can stem from a variety of reasons, such as an employment check, cell phone, or applying for an apartment. The good news is that you could check your report every month if you were a Pro member and it wouldn't hurt your credit.
My Credit Repair Judo Full Disclosure
If you have read my credit repair story, you know that I tried to drop off the grid at the height of my credit problems. My head was in the sand and I didn't want to deal with any of it. My strategy was to never disclose information to any companies for any reason. No address, no phone, etc. When I finally decided to face my bad credit, it would be an understatement to say I had issues with financial institutions.
I blamed those companies for my financial problems. Back in those days, Quizzle was the first service I signed up with to get my credit report. I pored over the entire site details before I decided to sign on. I was convinced that there was a catch and that they would take my information and use it against me.
Well, I signed up and saw my credit report for the first time. It was the start for me down the road to fixing my credit. The point is, I started using Quizzle long ago and have been a longtime fan of the service. This review contains affiliate links to Quizzle. That means if you click on those links, I may be compensated by the company. I want to emphasize that this blog is independent and contains only my opinions.
Either way, Get Started on Fixing your Credit
If you are thinking about trying Quizzle, you should do it. The fact that you are thinking about signing up shows you are at a point where you need to know your credit score. If your starting to repair your credit, Quizzle is an excellent place to start. It gives you the information you need and explains what it means.
In the world of credit repair, doing something positive is always better than doing nothing. The sooner you start, the quicker you will start to see improvement.
Although Quizzle is great, you will want to eventually get your credit report from the other two agencies. This will make sure that you find any and all wrong information on your reports.
For now, get started with your Equifax report and VantageScore at Quizzle.


You can do this! None of your credit mountains are too high to climb.
Have you used Quizzle? Did it help you? Leave a comment, we always love to hear from you!